Bachelor's Degree in Hospitality and Tourism Management (UdG)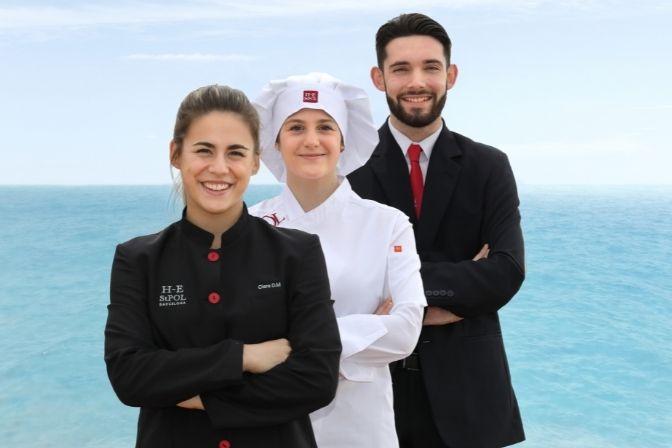 The bachelor's degree in Hotel and Tourism Management allows you to specialize in whatever you are most passionate about. Its focus concentrations open your way to International Hotel Management, Culinary Arts and Kitchen Management or Food and Beverage and Events Management.
The best thing is that you don't have to decide it now! During the first year you will be able to discover which is the professional field that suits you best. The internships that you will carry out in the different departments of the Hotel-School will help you make this decision.
Imagine that, contrary to what you think, you discover your passion for becoming a hotel manager, a head chef or executive chef, or an event manager.
The bachelor's degree in Hotel and Tourism Management is an official university degree, accredited by the University of Girona. It consists of 240 ECTS divided into four academic years and the study plan includes theoretical classes, practical classes and professional visits to hotels, restaurants, wineries and research centers, among others.
Among the theoretical subjects you will find some of them related to the management of hotel and gastronomic companies ; others related to the tourist environment and a third block of subjects on hotel operations and management . To all of them, you will have to add the optional subjects that will define which of the three concentrations of the bachelor's degree you will choose.
Languages
If you want to become a professional of hospitality, being able to communicate in as many languages as possible is essential. So, get ready to perfect your English level and add two other languages to your CV: French and German. You will go out to work with a minimum of four languages plus those that you decide to learn on your own.
Master classes
In addition, during your studies you will participate in seminars, conferences and master classes taught by leading professionals in the sector that will allow you to be up-to-date in knowledge related to innovation, sustainability, entrepreneurship, communication, leadership and Corporate Social Responsability (CSR).
Professional internships
Study a bachelor's degree with a highly practical methodology
Knowing the theory is fine, but knowing how to apply it to practice and understand the reasons for the processes and decisions that are made is of vital importance. So, get ready for a day-to-day in which you will combine theory and practice at the pioneering Hotel University School in Europe .
You will get to know first-hand how a hotel reception works, you will immerse yourself in the daily life of a professional kitchen and you will be part of the dining room team of a restaurant open to the public. This will allow you to apply the knowledge you have acquired and, of course, gain experience and professionalism.
Up to 4 international experiences
If you opt for the bachelor's degree in Hotel and Tourism Management, during the four years of your university studies you will be able to live up to four international experiences. How and why?
First of all, through external internships. From the second year onwards, summers will be synonymous with internships in prestigious hotels and restaurants around the world . International internships will not only allow you to continue learning, but they will also help you broaden your horizons, practice languages, expand your network and make friends in different countries. And the best of all: year after year, you will continue adding experiences that will make your resume shine and stand out from the rest!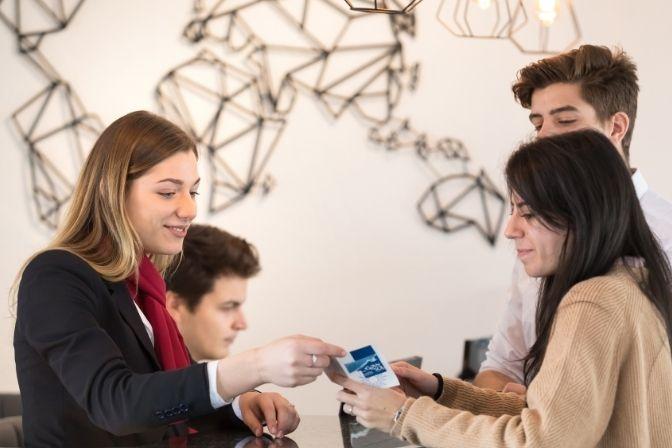 If you choose the concentration in International Hotel Management, you will not only be able to become a hotel manager, but you will also be able to lead a hotel company, work as a hotel consultant, or lead a Revenue Management, Quality or Human Resources department, among others.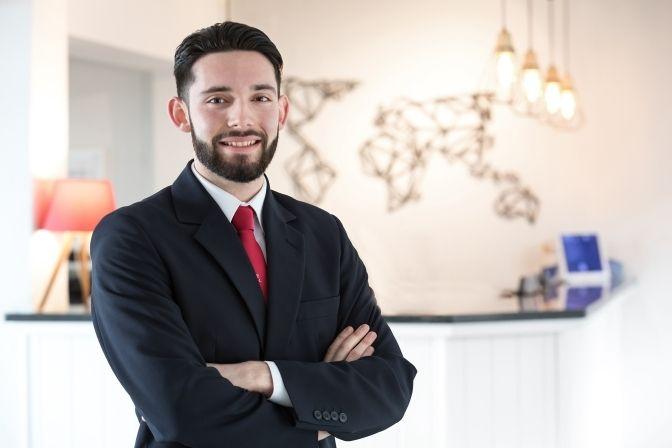 Beyond hotel management, with the concentration in Food and Beverage and Events Management you can become a restaurant manager, work as Food & Beverage manager in a hotel chain, a restaurant group, a cruise company or a theme park, among others. Not to mention event company management or catering company management .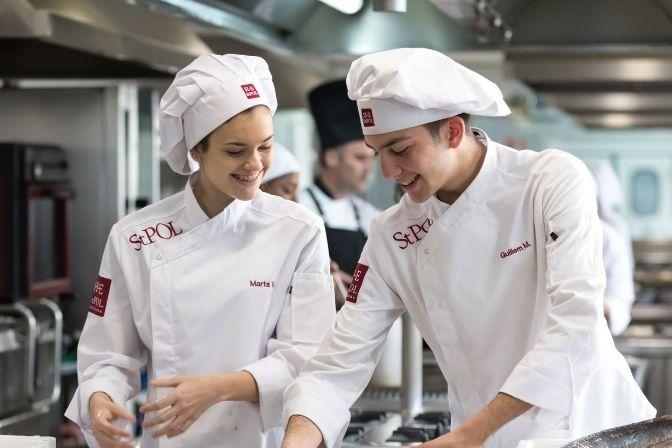 But there is still more! If your passion is culinary arts and gastronomy, there are also many career opportunities that fit perfectly with your professional goals. How about becoming an executive chef or gastronomic R&D expert in a restaurant chain? With the concentration in Culinary Arts and Kitchen Management you can also work as a gastronomic advisor or as a restaurant manager, for example.
And if your goal is to lead your own entrepreneurship project, go ahead! This bahcnelor's degree will give you the tools and experience necessary to boost your business and become a hotel entrepreneur or restaurant entrepreneur . If you have always dreamed of creating your own hotel or setting up your restaurant, studying this bahcelor's degree can be the first step to making your dream come true.
High job placement rate
After the internship itinerary carried out during the degree, it is time to go out to the labor market. And here you can also choose. Quite an asset, isn't it?
Through the Professional Development Days (PDD) you will be in touch with human resources representatives of international hotel chains. You will carry out personalized interviews and you will receive different offers from which you can choose your professional destination.
The PDD are the last link to start your career plan within a company in the hospitality industsry and a guarantee for your professional future.
Accreditation
A bachelor's degree with three diplomas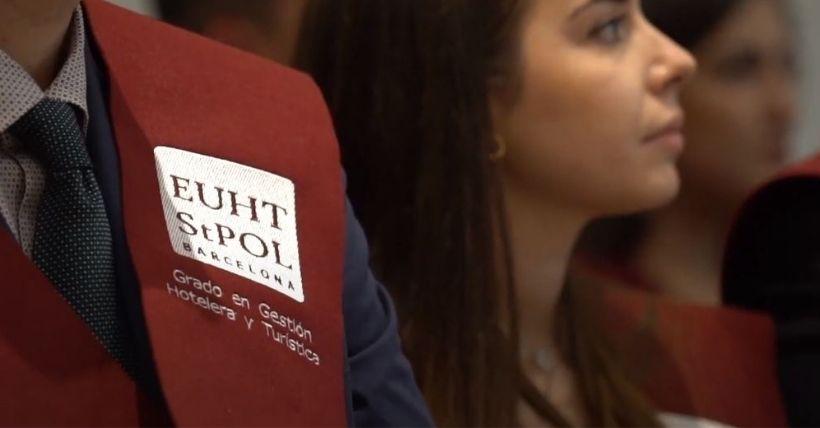 At the end of the four academic years of this bachelor's degree, you will get the Diploma in Hotel and Tourism Management from the University of Girona (official title), with the corresponding mention in Hotel Management or Gastronomy, Restaurants and Events Management.
In addition, you will also obtain the Diploma in Hotel and Tourism Management from the EUHT StPOL, with the concentration in: International Hotel Management, Food and Beverage and Events Management or Culinary Arts and Kitchen Management.
In the Graduation Ceremony you will also receive a third diploma: HSD Student Learning Visual Transcript accredited by Hotel Schools of Distinction (HSD). It is a unique international certification in the world developed and endorsed by this network of leading international hotel universities.
The teaching staff of the Bachelor's Degree in Hotel and Tourism Management is made up of doctorates, industry experts and professors from international universities with whom EUHT StPOL regularly collaborates. They all share space with active professionals: from consultants and hotel and restaurant managers to internationally renowned chefs, a fundamental aspect to keep in touch with the latest news in the sector.
The faculty of EUHT StPOL is completed with the hotel-school teaching staff, who supervise and guide the practical classes of the degree's operative subjects. An equilateral triangle designed to offer you a 360º vision that is most closely connected to the current situation and reality of our professional industry.
Access requirements
You can access the Bachelor's Degree in Hotel and Tourism Management if you meet any of the following requirements:
Having completed high school and passing the University Access Test (PAU).
Have a European Baccalaureate or International Baccalaureate (IB) with a university access credential issued by the UNED.
Pass the university entrance exam for those over 25 years old.
Other special types of access recognized by current regulations.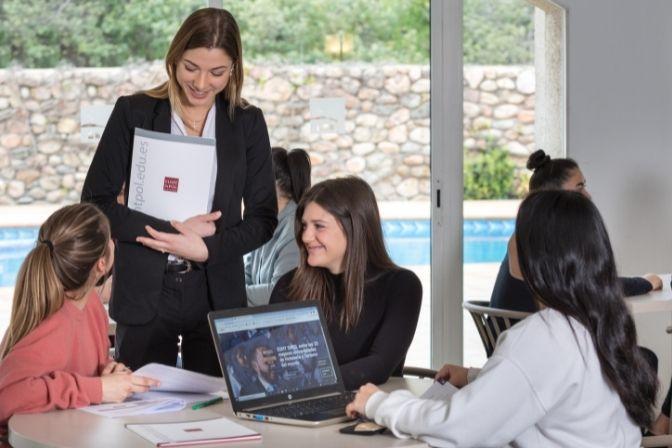 +46
---
Nationalities on campus
16
---
Students per class, on average
+96%
---
of the students recommend us
100%
---
professional insertion