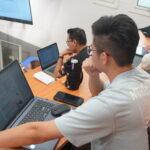 Starting the 2023-24 Academic Year
20 September, 2023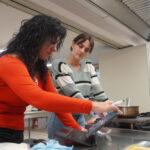 Master Classes in Healthy and Sustainable Cooking
30 October, 2023
The hotel industry offers a wide range of professional opportunities, and one of the most coveted goals is becoming a hotel director. In this article, we'll explore the possibilities and likelihood of achieving this position at the age of 30, the necessary requirements to become a director, the advantages of starting a career at an early age, and the personal growth and economic rewards that can be expected. We've spoken with three EUHT StPOL Alumni who have successfully become General Managers of a hotel at a young age. If you want to know how they did it, this article is for you.
The possibilities of becoming a director
Becoming a hotel director at the age of 30 is an achievable goal. Although it may require time and dedication, ascending quickly in the hotel industry hierarchy is possible with the necessary passion and determination. It's important to note that opportunities may vary depending on the location and size of the hotel, as well as the candidate's experience and skills. For example, Enrique Aranda, an EUHT StPOL alum, is currently the Director of the Hotel Sofía in Barcelona, one of the few 5-star luxury hotels in the city. "I became a hotel director at the age of 37, specifically at the Hotel Barceló Renacimiento in Seville. Anything is possible, but it's true that one must have the right attitude, talent, and enthusiasm. If you're always punctual, if your colleagues are happy to see you because you contribute to the team, a boss notices these things right away," says Enrique, who has also been the director of the Hilton Hotel in Diagonal Mar, Barcelona.
The hotel industry has experienced steady growth in recent years. The increase in tourism and the expansion of hospitality services have created an increasing demand for qualified professionals in the sector. This growth, in turn, generates promotion opportunities for those wishing to become hotel directors and lead successful teams. "It's a finite industry, but a very large one where there are increasingly more opportunities, and managerial positions are needed because there are more vacancies," Enrique added.
The importance of experience
Work experience in the hotel sector is crucial for advancing in the career toward the position of director. Starting in entry-level positions, such as receptionist or waiter, allows gaining practical knowledge and understanding the various aspects of hotel operations. This experience provides a springboard from which to leap into leadership roles later. To become a hotel director, it implies having worked in various departments and acquiring knowledge and skills in areas such as operations, sales, marketing, human resources management, and finance. That's why Cross-training internships offer valuable experience if your goal is to become a General Manager of a hotel. Upon completing any of EUHT StPOL's Hotel Management programs, students have the opportunity to engage in such professional insertion programs in internationally prestigious hotel chains. For instance, Elia Beret graduated from the Hotel and Tourism Management degree at EUHT StPOL in 2014 and, thanks to her fourth-year internship, entered an 18-month management program with the H10 chain. "I went through different hotels in Fuerteventura, Tarragona, and Barcelona, learning in different areas, including the central offices in the Operations Department managing new openings. It was precisely there that the opening of H10 The One Barcelona took place, where I started as an Assistant Manager and later as Sub-director," explains Elia, who 5 years after graduating became the director of the H10 Universitat Hotel in Barcelona and subsequently H10 Croma Málaga.
Development of skills
In addition to experience, developing specific skills is crucial to becoming a hotel director. Cristina Ímaz, director of The Hoxton Barcelona, describes well what the position requires: "You are like the orchestra director: you don't play any instrument, but you ensure everything sounds good. And for that, you must facilitate your team's work and provide tools according to each department needs. It's a job of helping and listening."
Solid leadership skills are needed to motivate and guide your team, with the ability to make effective decisions, communicate clearly, and efficiently solve problems.
Effective resource management is also necessary to oversee the hotel's daily operations, which involves the ability to plan and organize.
And we can't overlook communication skills in an industry like hospitality, as it involves interacting with staff, guests, and other professionals. A hotel director must be able to communicate clearly, both verbally and in writing, and maintain strong relationships with all stakeholders.
In Cristina's case, she became the General Manager of the Barceló Monasterio de Boltaña Hotel just six years after completing her university degree at EUHT StPOL.
Academic education
Work experience is crucial, but having a solid academic education can make a difference when aspiring to be a hotel director. Studying hospitality or hotel management provides a very specific theoretical and practical foundation that complements work experience.
While some of the skills may be innate, they need to be enhanced with a professional focus through university. At the EUHT StPOL Hotel School, students in the Bachelor's Degree in Hotel and Tourism Management take a DISC test to assess the adaptability of their personality to the profession. It's part of a personal branding program where students are advised to gain self-awareness to make better decisions in their professional lives in the future.
Starting a career at an early age
Starting a career in the hotel industry at a young age has numerous advantages, especially considering it's a sector with a high potential for rapid advancement.
The hotel sector offers job opportunities in different parts of the world. Starting a career at a young age provides the flexibility to explore different destinations and gain international experience, enriching your professional profile and opening doors to future opportunities.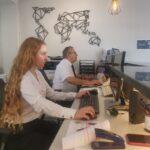 Personal growth and economic rewards
The average salary of a hotel director can vary depending on various factors, such as the size of the hotel, its location, and the establishment's category.
In Spain, the average salary of a hotel director can range from 40,000 to 100,000 euros per year. However, this figure can vary considerably depending on the location and category of the hotel. In luxury hotels and international chains, it's more likely that general managers receive higher salaries.
In Europe, the average salaries of hotel general managers tend to be higher than in Spain. They can be expected to range between 60,000 and 150,000 euros per year, again depending on factors such as the location and category of the hotel. Cities and countries with a strong hotel industry and a high level of tourism usually offer higher salaries.
Becoming a hotel director at the age of 30 is an achievable goal for those willing to work hard, gain experience, and develop the necessary skills. The hotel industry offers an exciting and rewarding field for those who want to lead teams, provide excellent guest service, and contribute to the growth and success of a hotel. If you're considering studying hospitality and have an interest in the hotel industry, go ahead and pursue your dream of becoming a hotel director.