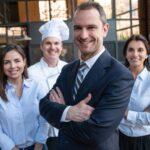 The key management positions in a hotel
12 September, 2023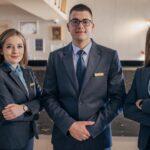 Becoming a Hotel Director in your 30's
3 October, 2023
This week we officially start the 2020/2021 academic year at the Sant Pol School of Hospitality & Culinary Management (EUHT StPOL). The great novelty of this year is the relaunching of the Master in Culinary Arts, Innovation and Kitchen Management aimed at updating EUHT StPOL specialized program in Haute Cuisine. At the end of the year, it would already have trained 25 generations of chefs.
Stay up to date with the latest news and take a couple of minutes to read this article.
On Tuesday, September 19, the first-year students of the Bachelor's Degree in Hotel and Tourism Management and those of the Technical Degree in Gastronomy and Restaurant Services met at the welcome session that takes the 2023-24 academic year off.
They join the students of the master's programs that began on September 4. On the one hand, the students of the Master in Hospitality Management began the induction training module in hotel management that takes place throughout the month and in which, in an intensive manner, they prepare to acquire the theoretical foundations that they will need during the course. master. On the other hand, the Master in Culinary Arts, Innovation and Kitchen Management has also begun, both in Spanish and English.
In addition, on September 25, students of the Master in Hospitality Management will begin classes in their online and blended modalities.
A renewed program
The big news of this 2023/2024 academic year is the update of the EUHT StPOL master's program in culinary arts. It is, initially, the oldest university course in European gastronomy in the world that has been renewed to adapt to the latest trends in the sector, especially the aspects linked to culinary innovation both from the point of view of technique and kitchen management.
During the first three weeks of September, the students are evaluated in a boot camp in professional kitchen service to observe their fluency, knowledge and teamwork abilities before fully entering the master classes.
In addition, during this year there is also the option of taking the Postgraduate Degree in Culinary Arts and Kitchen Management and the Postgraduate Degree in Haute Cuisine and Culinary Innovation, two one-semester-long courses that allow you to specialize in one of the areas of the master's degree.