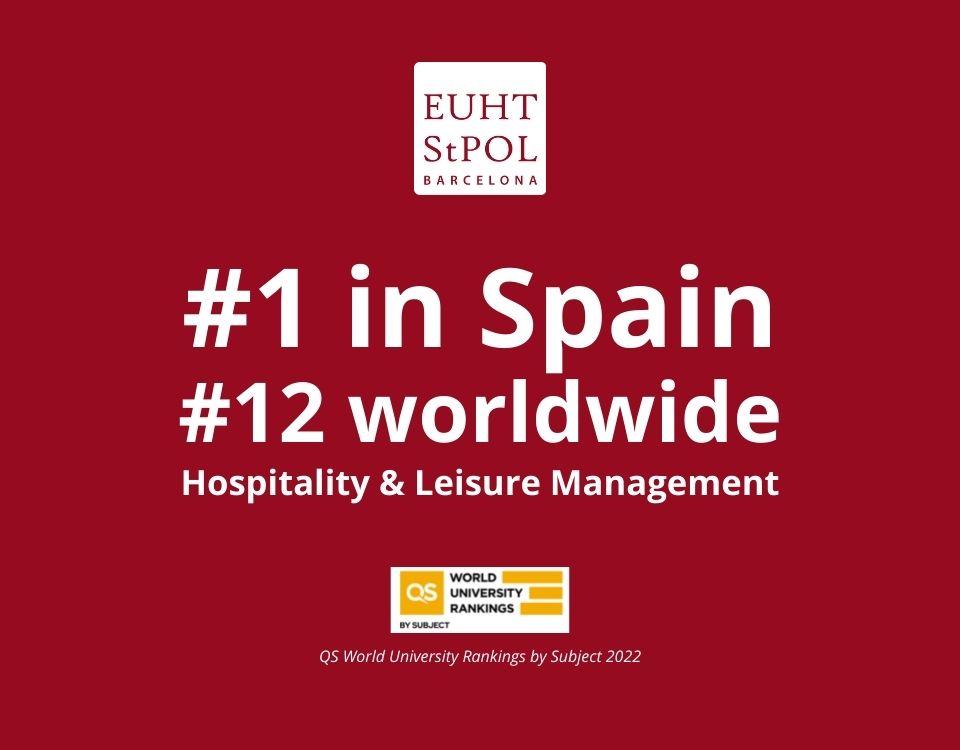 EUHT StPOL best university in Spain in Hospitality & Leisure Management for the fifth consecutive year and 12th in the world
6 April, 2022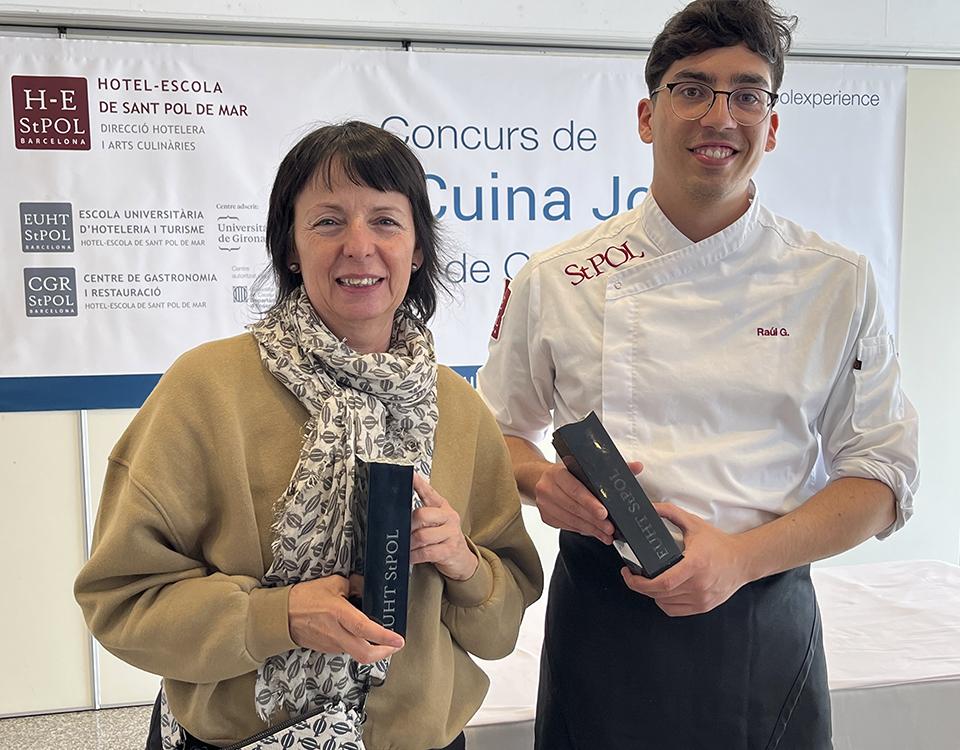 Raúl Gisbert, EUHT StPOL student, winner of the Catalan Young Chef Award
28 April, 2022
International Book Day is celebrated on April 23, a date that coincides with the death of Shakespeare and Cervantes. In addition, Catalonia celebrates Sant Jordi on April 23, the day of the book and the rose. So, it's a good reason to talk about books, don't you think so? In previous editions we have talked about hospitality and cooking books written by EUHT StPOL former students. But in this artciel, who prescribes the selection of books that you will find below are members of the teaching team and PAS of our university.
Which books they recommend reading to anyone who is passionate not only about literature, but also and above all about hospitality, gastronomy and restaurants? Take note!
Literature and books on hospitality, restaurants, wineries and gastronomy
LA MUERTE EN VENECIA, Thomas Mann
Recommended by Dr. Eva Canaleta-Safont, EUHT StPOL Academic Director
"It's a book that clearly shows the beginning of tourism. She talks about a hotel that is still in operation today and about the rituals of bourgeois families and the aristocracy in this space. Everything, in the surroundings of Venice and its gondolas", details Canaleta.
Tip for movie lovers: from the book La Muerta en Venecia, the director Lucchino Visconti made a film that has gone down in cinema history.
"I would recommend reading it to understand the evolution of the hospitality industry and realize that, in the end, the most important thing is excellence and customer service," she concludes.
LA MUERTE EN VENECIA
Thomas Mann
EL MEJOR HOTEL DEL HIMALAYA, Alec Le Sueur
Recommended by Carme Ruiz Aguado, lecturer of the Master in Hospitality Management
"The book tells the story of a hospitality student who dreams of doing an international internship in a luxury hotel but, finally, he is assigned to the only hotel in the Tibet" she explains. The story revolves around the difference between what the young man had imagined he would find and his day to day at the hotel and the different situations he has to deal with.
"I think that reading it helps to understand the cultural differences that can affect hotel management", says Carme Ruiz. And she adds: "We tend to generalize, we study some quality parameters and we think that everyone works exactly the same. But when you arrive at the destination you realize that it is not always like that and this is precisely the learning".
EL MEJOR HOTEL DEL HIMALAYA
Alec Le Sueur
EL SECRETO DE UN RESTAURANTE MAGNÉTICO, Roberto Brisciani
Recommended by Jordi Sala, head of the Restaurant Department at EUHT StPOL
"I especially like this book because it talks about the restaurant as a whole, it's not a manual, it emphasizes the relationship between customers and the restaurant." It came to him by recommendation and now it's he who recommends it to anyone who is interested in restaurant service.
"We often talk about kitchen and restaurant operations but we don't analyze customer expectations. We value them, yes, but we do not analyze them. In other words, we don't ask ourselves what the customer really expects to find in our restaurant, we focus especially on thinking about what we will offer", he explains.
EL SECRETO DE UN RESTAURANTE MAGNÉTICO
Roberto Brisciani
UN HOTEL EN LA COSTA BRAVA, Nancy Johnstone
Recommended by Rosa Domingo, teacher of the English language department
"This book came into my hands on the recommendation of a friend who knew this interesting story about the first hotel in Tossa de Mar, on the Costa Brava", says Rosa Domingo. The book tells a true story: that of a British couple, the Johnstones who, in the 1930s, when there was still no tourism in Spain, promoted this hotel and totally adapted it for the English guest: schedules, furniture, tea ritual, etc. But the Spanish Civil War began and the hotel became a center to welcome refugee children.
"It is not an essential book, but it is very curious and I loved it. That's why I would recommend it," she notes.
UN HOTEL EN LA COSTA BRAVA
Nancy Johnstone
LA BODEGA, Noah Gordon
Recommended by Josep Sala, restaurant and sommelier Department
"This novel is set in Spain at the end of the 19th century and tells the story of a young man who goes to France to learn the art of making wine to later create one of the best wineries". This is how Josep Sala summarizes the content of this book by Noah Gordon.
"For those who like the universe of wine, this book will give them an adrenaline rush that will make them not be able to stop reading it until the end," he says.
ELOGIO DEL BISTROT, Marc Augé
Recommended by Dr. Ester Noguer, lecturer of the Bachelor's Degree in Hospitality and Tourism Management
"It's a recommended book because it exposes the French concept of bistrot and how these become centers of socialization and spaces to appreciate gastronomy," explains Noguer.
In fact, the synopsis of the book indicates precisely this: "A relational space but also a literary one, as a model of civilization that France has exported to the whole world, the bistrot is not just an image, it is an object of the urban landscape that claims its own history. , a geography and from now on also its ethnology."
ELOGIO DEL BISTROT
Marc Augé
LA FUERZA DE UN DESTINO, Martí Gironell
Recommended by Jordi Sala and Josep Sala, teachers of the Technical Degree in Gastronomy and Restaurant Service
This is the second of the books related to hospitality and gastronomy recommended by both Josep Sala and Jordi Sala. Both coincide in highlighting this novel by Martí Gironell inspired by the life of Ceferino Carrión, known in the US as Jean Leon. "It's very interesting," they comment.
Jean Leon's life was like something out of a movie: from Spain he traveled to the United States, where he rubbed shoulders with movie stars and opened the La Scala restaurant, which became a benchmark in Hollywood in the 1950s and 1960s. "Jean Leon created his wineries in Penedés and from there he sent his wine to the restaurant he had in the USA", both explain.
A biographical novel for lovers of the wine universe awarded with the 2018 Ramon Llull Prize.
LA FUERZA DE UN DESTINO
Martí Gironell
EL PRÁCTICO, RESUMEN DE COCINA Y PASTELERÍA
Recommended by Mauro Rodríguez, head of the EUHT StPOL Kitchen Department and coordinator of the Master in Culinary Arts and Kitchen Management
"It's a very old cookbook, it's difficult to find but it's very valuable", he explains. In fact, the first edition is from 1920 and since then it has been reissued and expanded. "It is a basic book, it's not written by a well-known chef but it's made to inform, it is a book with which you learn", he points out.
A chef friend of Ferran Adrià recommended it to him. "I heard that this was the first book that Ferran Adrià studied and I decided to buy it for myself", he recalls.
EL PRÁCTICO, RESUMEN DE COCINA Y PASTELERÍA